"You can have the best technology, you can have the best business model, but if the storytelling isn't amazing, it won't matter. Nobody will watch." - Jeff Bezos
Here's What I'll Cover:
Learn to earn with shoppable product review videos posted on Amazon

Results? What results have I achieved? What results can you expect?

Buy Anonymous Influencer? What can this proven system do for you?

What to expect? My First Reaction to Anonymous Influencer Course

Been denied for Amazon Influencer more than 3X? They will help you!

Behind the Paywall: What's actually in the Anonymous Influencer course

Why you want to be part of the Anonymous Influencer Affiliate Program
Everyone who has spent any time on Social Media has seen at least one video or print ad promising easy money with passive income online.
And while many of these options offered are not as good as they seem, the Amazon Influencer program is absolutely legitimate and can be scaled beyond your wildest dreams.
That is not to say that getting approved as an Amazon Influencer is a piece of cake… more like you need to bake the cake properly before you can eat it! This article will tell you all about the Amazon Influencer Program, how you can apply, what you can earn and the difficulties you can face, when applying to be accepted into the program.
I will also say that the longer I have been around this Make Money Online space, the more I appreciate and seek out the training that is built on integrity, good business practices and strong moral code. Both the Amazon Influencer program and the Anonymous Influencer training program meet those high standards for me, making me a proud supporter of both!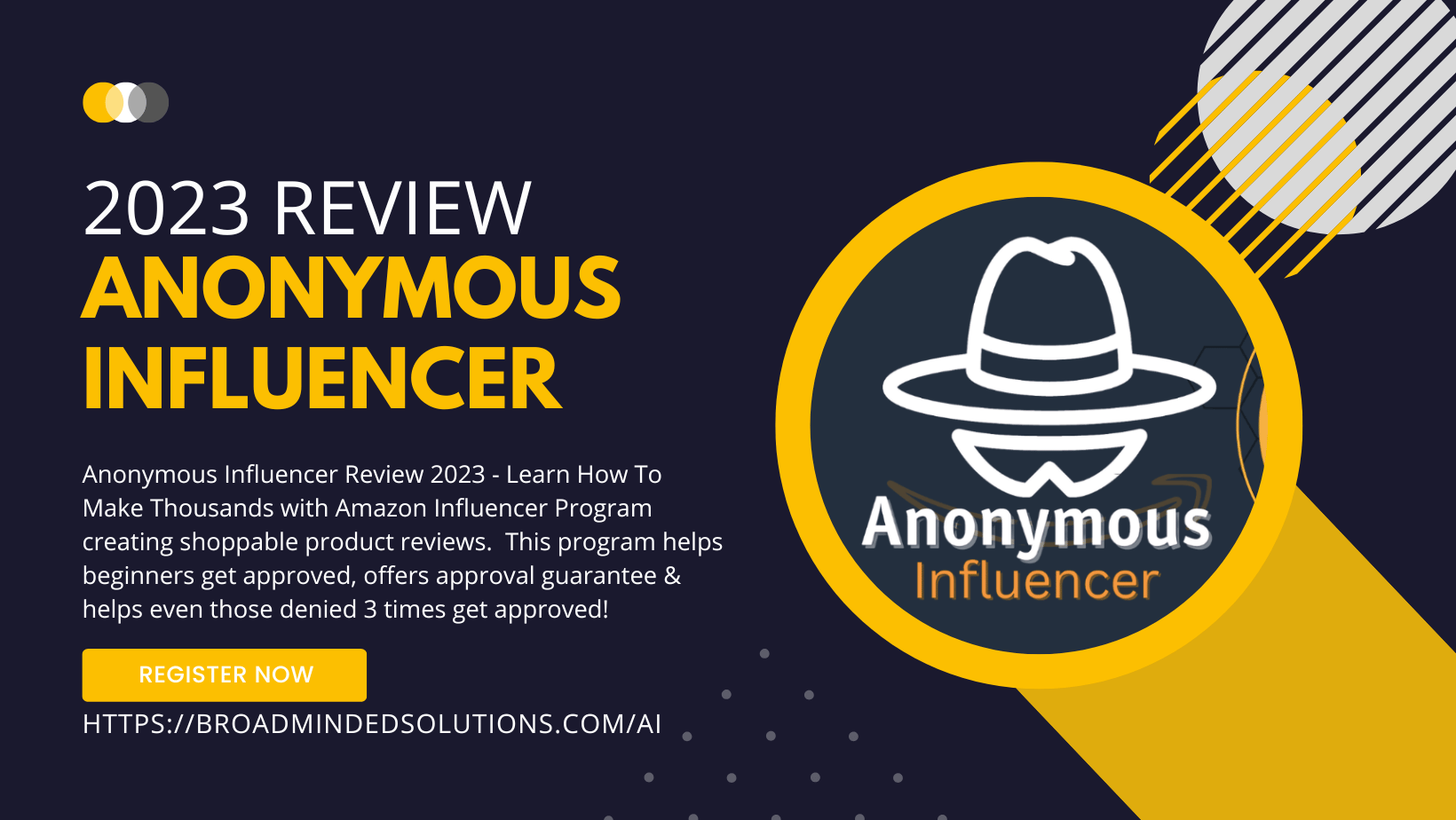 With that said, here is what you want to know about the Anonymous Influencer Course and how to become an Amazon Influencer! 🔥
What Is the Amazon Influencer Program?
The Amazon Influencer Program is hands-down, one of the best, most scalable, most ethical forms of passive income I have ever encountered. Amazon Influencers, once approved for Additional or Onsite Placements have the gargantuan strength of the Amazon advertising team driving traffic to their shoppable videos, hosted on Amazon, to help potential customers make a purchase.
Every time a consumer watches an Influencer video and then makes a purchase of either the product featured in the video or of a product that Amazon considers related, the Influencer gets paid a commission.
This happens EVERY time someone watches that video and commissions are paid out on every unit sold (imagine if one consumer bought multiples of a product?
If you want to apply to the Amazon Influencer Program, you can do so by clicking HERE.
My Results as an Approved Amazon Influencer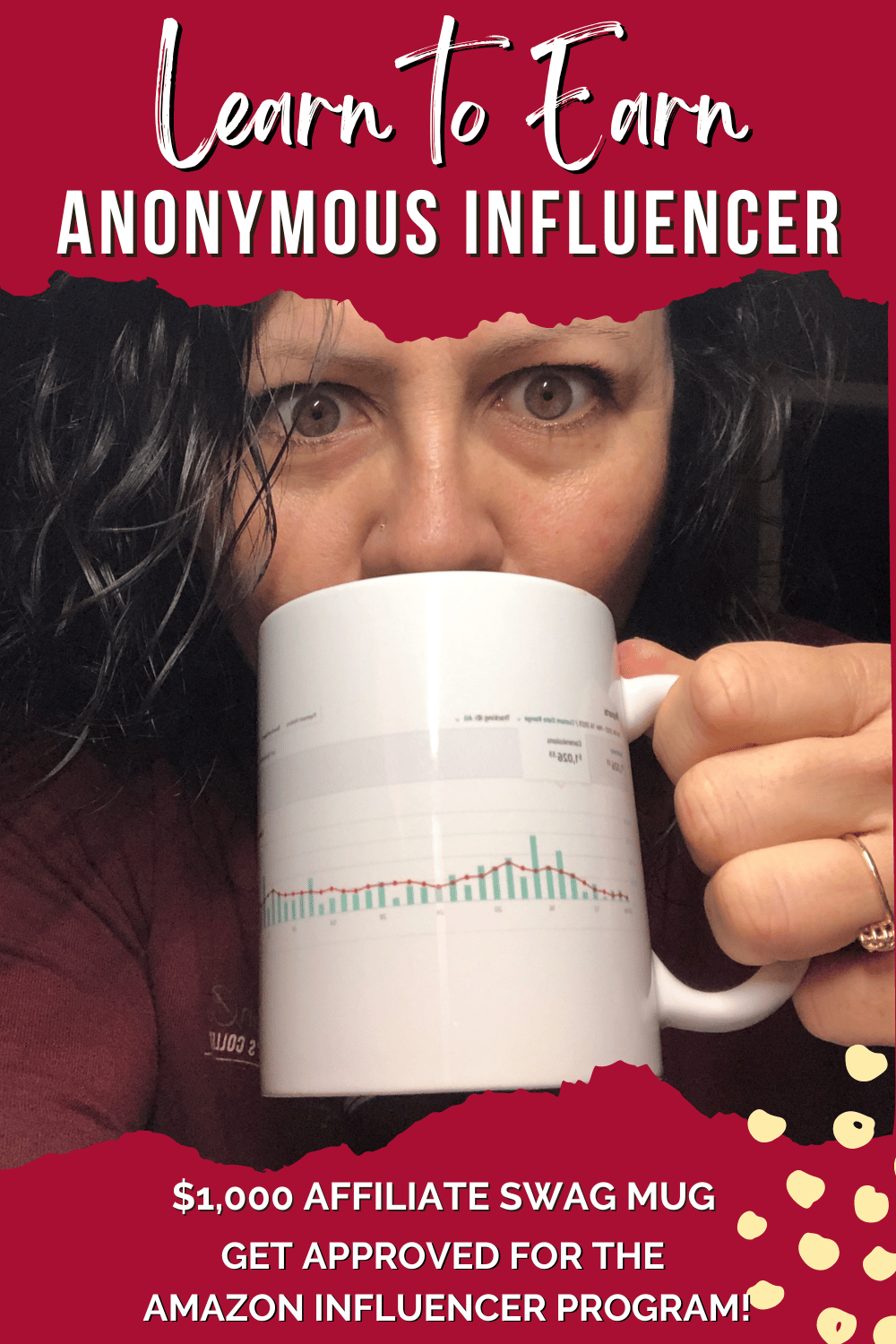 I'm going to start by saying that showing screenshots of my Amazon Influencer back office could get me expelled from the program, and that is NOT what I ever want to happen. You can certainly find people splashing their results and screenshots all over social media if you want to see proof like that, but if you truly understand the power of this program, you'll understand my absolute desire to protect what I have earned.
It has now become my morning ritual to pour that first cup of coffee into my Anonymous Influencer First $1,000 mug and open the Amazon App to check my onsite commission earnings from the previous day. When you download that report, you can open a detailed report that allows you to see what items from your shoppable video library have sold, how many of each have sold and what your total commissions are for each item.
Once approved as an Amazon Influencer on February 6, 2023 it took me 34 days to earn my first $1,000 with the program. I had approximately 90 videos uploaded to the platform over the course of that 34 days. Now, my daily average is between $70-$100 and it just keeps growing with each new shoppable video I upload.
Those first 100 videos came strictly from items I had already in my possession. Things in my house or gifts I had to purchase for people. Once I had exhausted that, I began the super-fun method of researching and buying with intent. That's right: researching hot, best-selling items that I could purchase, make a review on and get a return on my investment in an average of 22-30 days. Talk about unlocking the thrill of shopping on a whole other level.
This is an awesome feeling. I can't describe it any other way.
Have you heard enough and want to check out the Digital Marketing Misfits Anonymous Influencer Webinar? Click HERE!
Why I Bought the Anonymous Influencer Course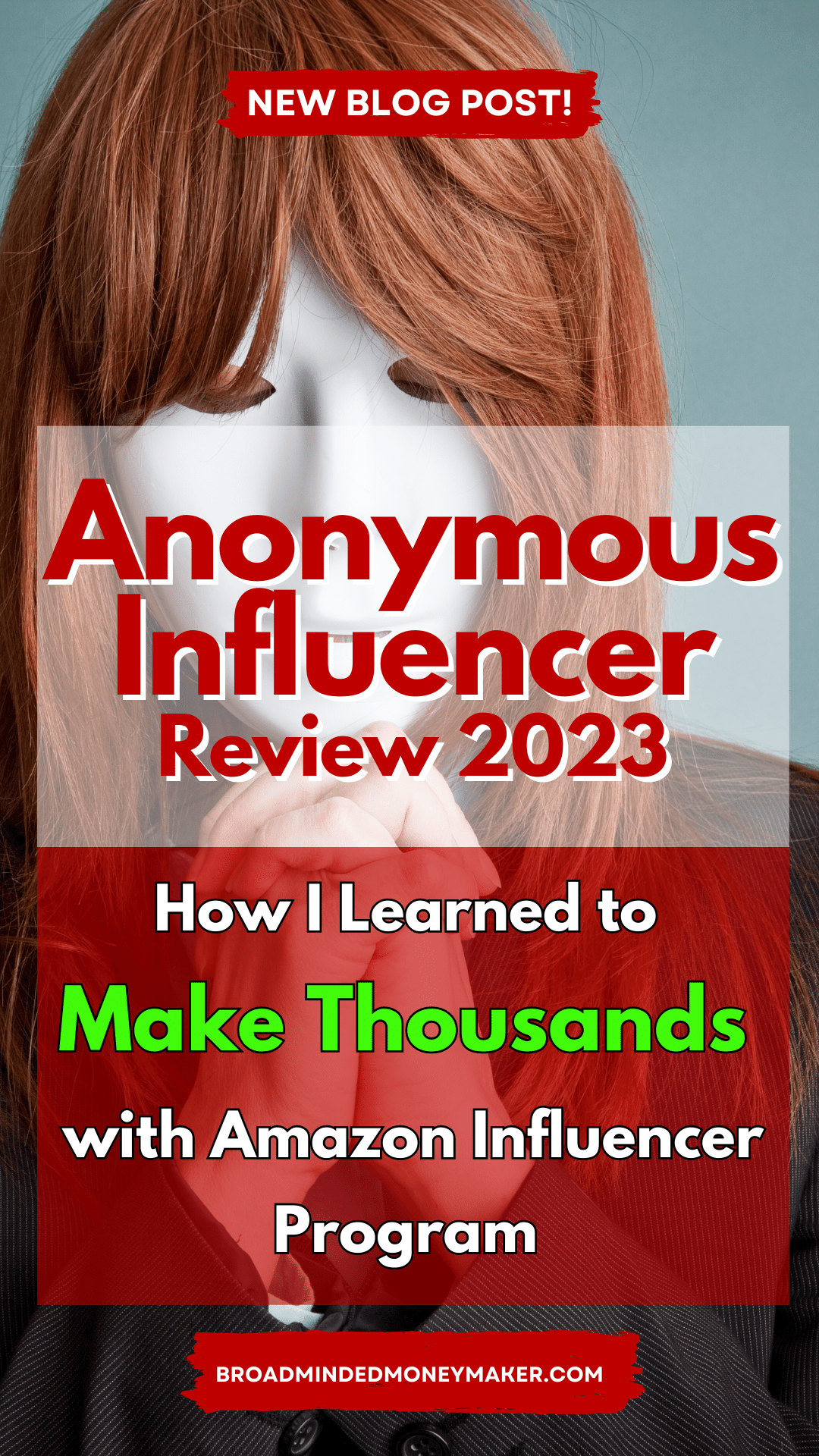 The Anonymous Influencer program guides people step by step through how to go from applying to approval for the Amazon Influencer program. This program offers buyers a guarantee that they will be able to gain full acceptance into the program.
So where does the "Anonymous" part come from? Well, many people are nervous and afraid to show up on camera. Amazon Influencer videos do not require a person's full presence on-camera, and instead can allow for a degree of anonymity, where the focus of the video is on the product and not on the person doing the review.
Myself, I tried for 2.5 months on my own to figure out how to be accepted into the Amazon Influencer program: Googling, watching YouTube videos and reading blog posts to try and figure out what I was doing wrong. I was stuck at the initial acceptance into the program.
Finally, in November 2022, frustrated beyond belief and tormented by posts I kept seeing on Social Media about people making a lot of money doing this, I decided enough is enough.
So I started researching… what was going to accelerate my progress and get me approved? I knew once I got approved, I was hopeful I'd be able to recover my investment. Now the big question was which training program would I choose? There were a few different courses, varying prices, and with different approaches.
Here's where I will offer a word of caution. There are some courses out there offering advice that suggests using methods that go against the Amazon Terms of Service, like running paid Facebook Ads or buying Instagram or TikTok accounts with lots of followers.
After a lot of research, I bought a program from the Digital Marketing Misfits called Anonymous Influencer. While it is not the least expensive course on the market, following the teachings in the course will bring you as close to a guarantee as you can come to getting approval as an Amazon Influencer. As a matter of fact, they offer you their Anonymous Influencer Approval Guarantee – more on that a little later on!
You get what you pay for in this course! Under their guidance which included a video-based course and a private Facebook group for support with a highly-engaged core of five incredibly talented Digital Marketers, I was approved for Onsite Commissions with the Amazon Influencer Program on February 5, 2023.
Ready to check out the Digital Marketing Misfits webinar on how they can help you to become an approved Amazon Influencer? Register for Anonymous Influencer's Webinar HERE
My First Reaction to Anonymous Influencer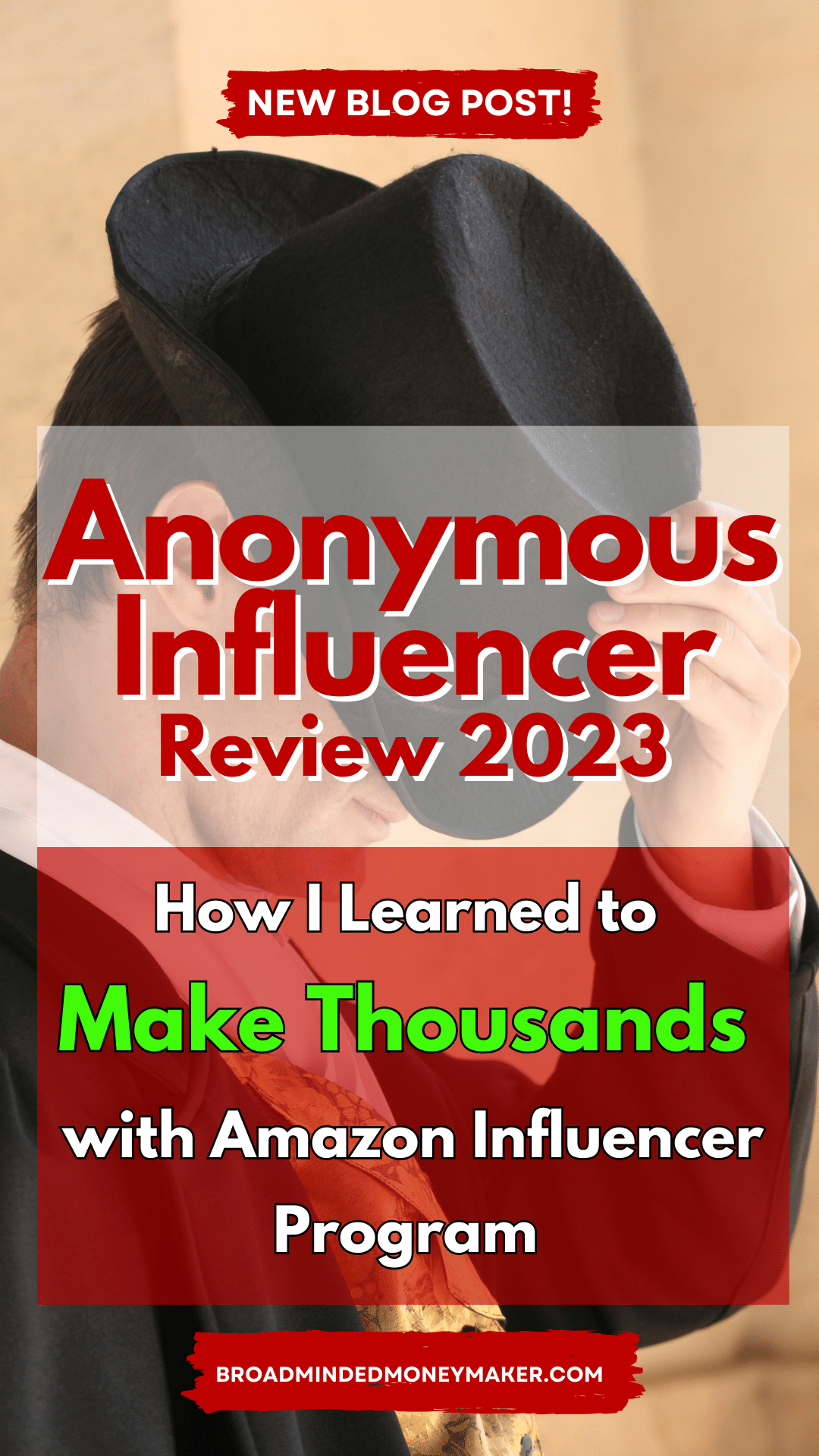 Upon first looking at the Anonymous Influencer course, I could tell that it isn't just a one-trick pony kind of course. It is a course designed to help you learn in a variety of different ways. There's a series of 34 videos that walk you through the process from the very beginning (understanding prerequisites, meeting basic requirements) to how to scale your results once you are approved for Onsite Commissions.
Along with the video library, you also gain access to a private Facebook group. The Anonymous Influencer Facebook group is awesome, highly active and has become a backbone for the program
While a 35 video library might seem like a lot, I'll say that there is a step by step video for each task you need to accomplish along your road to becoming an approved Amazon Influencer. Especially for someone like me who had tried it on my own, unsuccessfully at that, I was reassured that the process could be put into an easy system that eliminated the guesswork.
Once Amazon gives you the initial approval, you still have a lot of work to do. The first stage after approval is to upload three videos that serve as a sample of what your content-making skills are. Ultimately, Amazon wants Influencers who can create content that converts. If you can't show that in the first three videos, you will never be approved for additional placements & onsite commissions.
This is where the Anonymous Influencers private Facebook Group kicks in. All members of the Facebook group can upload their three approval videos for feedback from the community. Both Misfits and active members of the community offer constructive criticism and guidance with the videos BEFORE they are uploaded to Amazon for approval. I am thankful for the constructive criticism I received for my three videos before I uploaded them to Amazon.
In addition to help with the approval videos, this Facebook group is the place to post your questions. If you don't understand something from the lessons or if you need clarification on changes to the Influencer's program, this is the place. 6. It drives long-term results
What Happens When You Are Denied 3X for Amazon Influencer?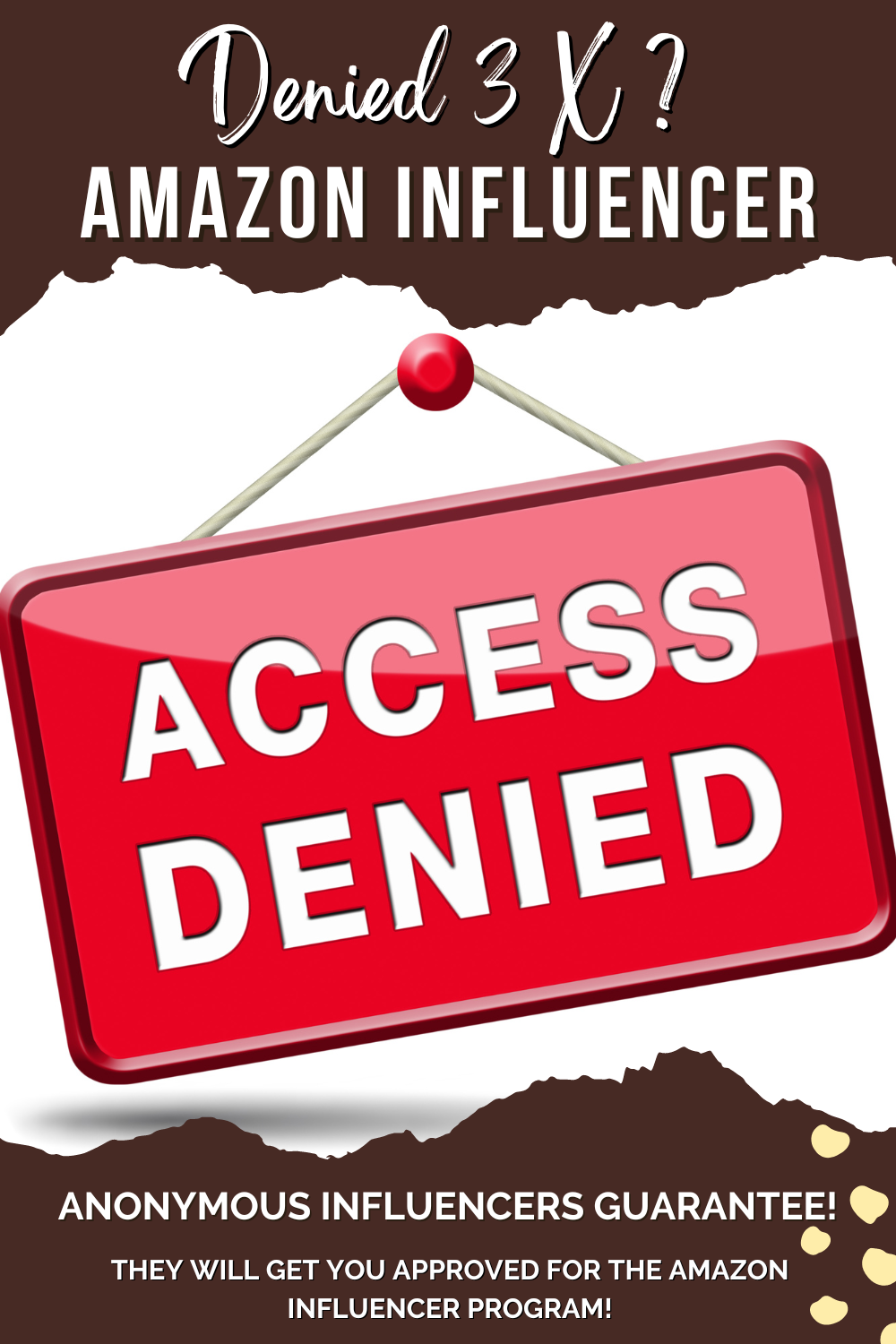 If there is one place that people get caught and really struggle to advance, it is at the 3-video approval stage. Add to that the complicating factor that Amazon has a 3-Strike policy for Influencer. That means that if you are denied at this stage more than three times, you get completely removed as an Amazon Influencer and for most people, that is the end of the road for them.
You're back to square one and have to reapply with a completely fresh set of socials and email. It is at this point that many people give up, but that is exactly where the Misfits guarantee comes into place.
The Anonymous Influencer has a special support group that kicks in for those people who either arrived at the program already on their third denial or who received their third denial after purchasing the course. It's called AI's Scenic Route and with this specialized support, the Misfits can get their clients approved!
If that's enough for you and you are ready to jump in, you can check out the webinar that goes into detail about what's involved HERE.
Behind the Paywall: What's In Anonymous Influencer?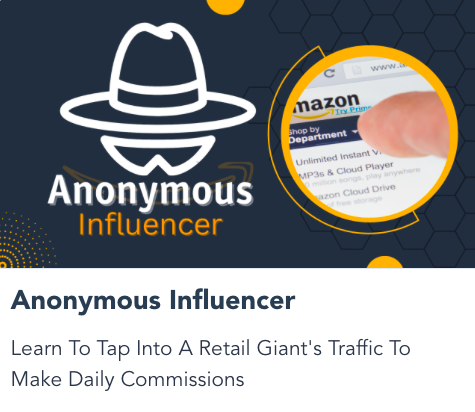 Maybe you want to know more about the program and what's inside the paywall? Want a section by section of how much bang for your buck? Check out my detailed explanation of what you get when you opt in for Anonymous Influencer.
Section 1: Getting Started
Assuming that some people will jump into this without any prior knowledge and experience, the first section of the course gives thorough background on the program, the prerequisites, how the commissions work and why Onsite-Approval is life-changing.
Section 2: Qualifying as an Influencer
In this section, you'll get a full explanation of the Anonymous Influencer Approval Guarantee. This is one of the absolute top reasons to invest in this course. Who doesn't want a guarantee that the process works and that you an achieve what you dream about?
Key to your success in qualifying as an Influencer is proving your muscle as a Content Creator. In addition to their video explanations of what to do, you'll also get access to a recording of a Live call Mini-Mastermind that happened inside of Skunkworks to help people build their Content Creation muscles. Consider that call your sneak peak into the power of Skunkworks and what it can do for you!
There's a lesson in this section that details ways to increase your odds of getting approved as an Influencer on your first attempt.
To round out this section, you'll get access to another Live Call Recording on how to become a real influencer. So powerful!
Section 3: Setting Up Your Influencer Account
The nuts and bolts of setting up your Influencer Account are outlined in this section of the course. You'll learn how to style your storefront, set up payment information and design your storefront banner with a great tutorial.
Section 4: Your First Three Videos – DON'T Skip These Lessons
This section is a deep-dive into the specifics areas you need to focus to craft the perfect approval videos. These three approval videos are often where people get stuck so this section of the course is essential to guaranteeing your success. It goes over the different ways you can upload (mobile or desktop), provides a verbal framework for your videos and goes through content rules and regulations. This is a must-see essential for this course!
Section 5: Shooting Videos
Want to ensure that your videos are not r ejected for sub-standard editing, lighting or sound? Want to make sure that you are creating enticing Thumbnails for your products? This section explains the specifics you need to make your focus.
Section 6: Getting Past the Wall
For some people, even just getting into the Amazon Influencer program can be challenging.
This section of the AI course is called "Getting Past the Wall" and it covers all the basics for the initial approval. What this boils down to is a highly engaged social media account with a few other caveats.
When I first applied to the Amazon Influencer program, it was relatively new and it was not uncommon for people to wait 45+ days between being accepted into the program and approved for onsite commissions. My personal experience had me denied the first time, reapplying and waiting a total of 54 days from initial acceptance to approval for onsite.
Now while these days the approval/denial process moves much faster, this section of the course guides you through what to do while you wait so that once you are approved, you can maximize your results quickly. It also tells you where to look for your approval notice.
Section 7: Maximize Your Results
Understanding the power of this Amazon Influencer program is really your key to success. This section of the course delves into the Amazon profit levers you can pull and helps you to understand which products are the ones to intentionally purchase to review. It provides a thorough explanation of the categories and commissions available inside the program. Finally, "Maximize Your Results" provides guidance on how to title your video files and explains how to tag your items.
Section 8: Livestreaming
Livestreaming is an option included in the Amazon Influencers program for approved Influencers to livestream on the Amazon platform as a way to expand their earning potential. This will also explain the different levels Influencers can unlock in Amazon Livestream.
Section 9: Bonus
When you are first approved as an Amazon Influencer, the easiest way to get started is simply to review EVERYTHING in your house and the houses of the people you know who let you in to film! Believe it or not, you will come to a place when you have exhausted those resources!
The Bonus section explains how Influencers can reap the benefits of the Amazon Influencers program beyond just the commissions that come in from the shoppable review videos. It explains how to take advantage of free products from sellers, made available in exchange for video reviews, how to expand your products once you've exhausted everything in your house and how to make yourself an option for sellers seeking Amazon Influencers.
Anonymous Influencer Extras
Any great program will have a series of upsells or order bumps and Anonymous Influencer is no different. Here's a list of the amazing Extras you can purchase in addition tp the base program.

Anonymous Influencer Plus
To add further value, the Anonymous Influencers Plus is an order bump with one-years' worth subscription of an awesome all-in-one software platform called Lead Vortex that will manage your emails, build your funnels, manage your customer relationships, automate a ton of processes, and host your blog, all with real person customer support, 24 hours a day. Using this software has saved me over $150 a month and I am an avid fan of the platform. Want to read more about this ridiculously powerful software platform: Click HERE to read my review!
Skunkworks Mastermind Group
As a further bonus, there's also an optional, paid mastermind group called Skunkworks where all the new trends, cool tools, and most effective methods for maximizing earnings with the Amazon Influencer Program are shared. This has a private Facebook Group and a Chat Group that is absolutely LIT! 🔥. Like we are talking it lights up your phone at least 20 times + per day with people sharing wins, new strategies and also tips/tricks for boosting your success and sales with the Amazon Influencer Program!
Repurposing Mastery
Not only is it possible to make money with your shoppable videos as they are posted on Amazon's product listing pages. Repurposing those videos into a YouTube channel build with a solid Search Engine Optimization (SEO) foundation unlocks another level of profit for an Amazon Influencer. This course goes in-depth into setting up and scaling a whole other platform for your shoppable video product reviews.
Waking Up Your Socials
This is the ultimate helper for someone trying to pump up their social accounts to prepare for Amazon Influencer. As I've said before, having a highly-engaged following of at least 500 on Social Media will be a key piece in your initial acceptance into the program. This mini-course lays a framework with easy steps to follow for creating engaging social content that leaves your audience following, saving, and begging for more!
Anonymous Influencer Affiliate Program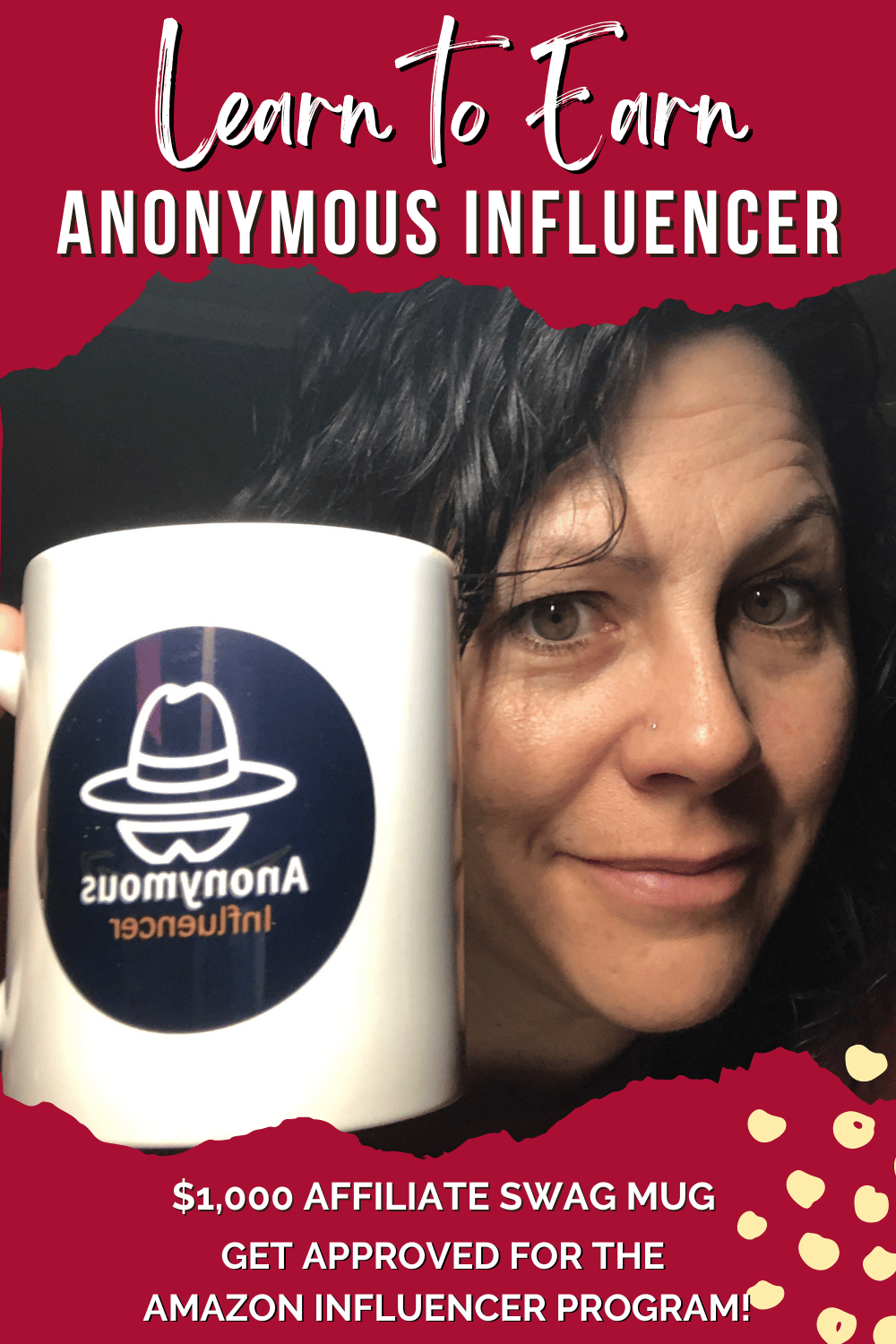 As I've told you before, this program offers a guarantee that you will be successfully approved as an Amazon Influencer. And now for the cherry on top of the already tasty sundae…
Once you have reached the threshold of investment, meaning once you have earned-back the cost of investing in the course with your Amazon with onsite commissions, you are the granted the privilege to promote the course as an affiliate!
And the photo above features the swag you get as an Anonymous Influencer Affiliate. It's a coffee mug featuring your own screenshot of your first $1,000 earned as an Amazon Influencer. Take if from me, EVERYTHING just tastes better in that mug!
To be clear, this is a privilege extended ONLY to those Influencers who have completed the course and achieved $1,000 USD in commissions from the Amazon Influencer program. The Misfits tell tales of powerful social media influencers with millions of followers reaching out and asking to promote this course, only to be turned away with a resounding NO!
Now it that isn't a testament to the strong moral code and belief in the value of hard work, I don't know what is! You gotta earn it, LEGIT!
That's right! Once you've proven that you have successfully applied the principles of the course with success, you can promote the course, earning 40% commissions on all Misfits products for life! In addition to this, you are granted access to a private Facebook Group and Group Chat with full affiliate support, live Zoom calls and additional training!
Ready to opt in? Here's the link to register for the free training webinar: Anonymous Influencers!
Summary
There you have it, friends. It's quite a read, but for those of you who read to the end, I hope it was worthwhile. If you have been searching for a side hustle that is profitable, scalable, and ethical, you need look no farther than the Amazon Influencer program. This program, the Anonymous Influencer Program, will help you gain acceptance and Onsite Approval into this program with a recipe-for-success that comes with the Digital Marketing Misfits personal guarantee!
Simply starting out with doing product reviews on any & all items in your house that can be found on Amazon is a great way to build your confidence and work out that content creation muscle. Layering on that success, you can start researching and buying with intention so that you are reviewing products that are best-sellers on Amazon that will bring you the greatest profits. As I have already told you, this is a side hustle that can be scaled beyond your wildest dreams.
All that's left for you to do is check out the free webinar that gives you even more details than you got from reading this. Click HERE to get your start on this today!
---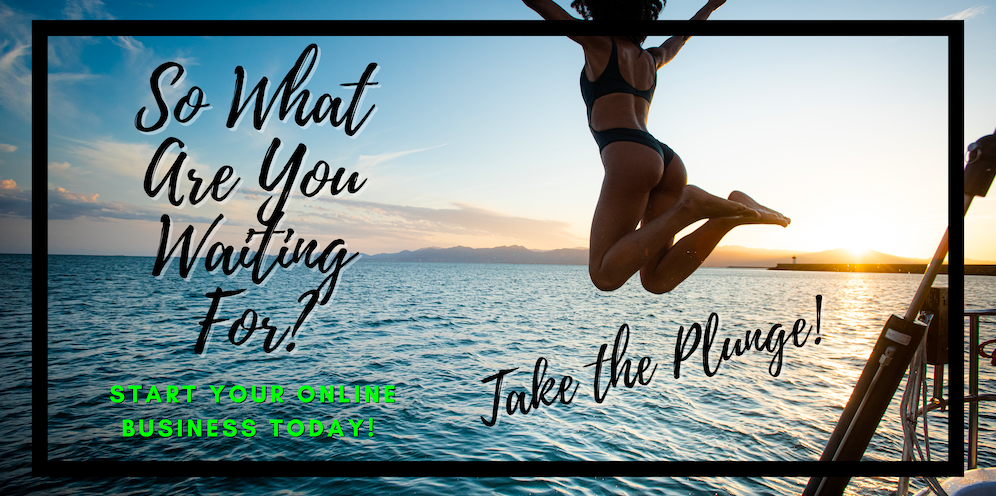 Start your own Affiliate Marketing Business or Blog TODAY!
Did you enjoy this post? Please consider sharing with others on your favourite social media platform!
Here are your take-aways from reading to the end. You CAN own your own passive-income business; it just takes time! Most importantly, to become successful, you need to be authentically YOU!
The principles I have just revealed I personally used to jump-start my own successful Digital Affiliate Marketing business. Use them to scale your online business, work on your education, and put in the work! Take the next few weeks to really focus on yourself.
And finally ... what more do you want to know about how you can become an Amazon Influencer and make thousands of dollars from posting shoppable product review videos on the world's larges online retail platform?