"Before you do anything else, before you give your time to somebody else and their dreams that they're building—give it to yourself first" - Pat Flynn
10 STEPS YOU CAN TAKE TO COPY MY SUCCESS!
Unbelievable, but True! My brand-new blog made me $1393 in a weekend with Affiliate Marketing! I know! It may seem hard to believe, but the proof is in the bank account! After only one week into its existence, it's generated me $1389 in passive income!
See that graphic just below? Those are screenshots of the actual emails delivered to my email inbox informing me about the commissions that rolled in over a weekend.
Now THAT is something awesome! You might find it even harder to believe that you could make enough money from a blog to walk away from your 9 to 5, or retire early, but it is entirely a possibility...
IF you actually GET STARTED!!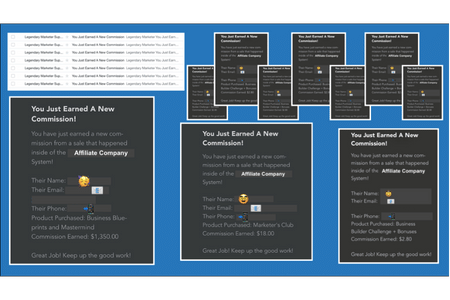 NOTE: This post contains affiliate links. I may receive a commission if you click a link or a button on this page and choose to purchase anything. This is at no cost to you. I give you my word that I only promote the tools and services I believe will be of value to you, as I have found them to be for me.
Don't get me wrong; this is totally not typical, but I have been in the online space since July 2020 on a wide range of social media platforms. I'm absolutely leveraging that to help me. Starting a blog was my natural next step in expanding my social media reach, as I had already been on Instagram, Facebook, YouTube, and TikTok.
I have been promoting this blog on my social media accounts and with my newfound presence on Pinterest. However, due to tracking tags, I can absolutely determine that that weekend's payday came as a direct result of the Broad Minded Money Maker Blog.
Could I have just been lucky? Or is there actually something to this?
"How did she do it?" you might ask, and the answer is quite simple: I just started. I have been toying with starting a blog for a few months.
I've been doing some research into how to start a blog and on the importance of SEO. If you don't yet know what that means, you will by the end of this article!
After a few how-to courses and a lot of reading (on Pinterest, of course!), I put my fingers on the keyboard and started telling my story. Writing has always been something I enjoyed so this was a natural extension of things I love to do!
Be sure to read through till the end and I'll share the exact steps I took to build a money-making blog in under two weeks. You will learn about the following: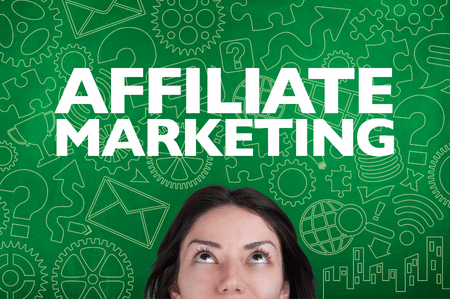 STEP 1: DIGITAL MARKETING EDUCATION
Affiliate Marketing was not something I knew how to do before I started all of this in August 2020. Before I get too far, I should mention that the Affiliate Apprenticeship 2.0 teaches the basics of Affiliate Marketing, easily laid out in a 2-week course that will take you step-by-step through the process of starting an online business. These are the principles of Affiliate Marketing that you can apply to creating a money-making blog.
This blog, the very one that you are reading right now, brought me affiliate commissions and paid me passively, in my bank account, while I was at camp with my family.
Digital Affiliate Marketing is the best kind of online business for a beginner. Create a method (blog) to drive traffic to your affiliate offers, and you get paid. When you choose a method like blogging, once that blog post is published, any affiliate income you get from it is truly passive income.
Even better, a blog post from two or three years ago could earn you affiliate commissions just as much as a fresh post! You put in the work to learn the skills with training like the Affiliate Apprenticeship 2.0, and once you put those principles into motion through writing a blog, your content does the work for you! It is a simple process and one anyone can learn.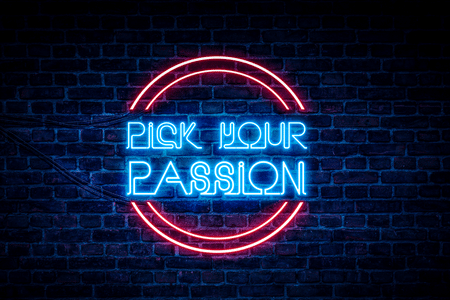 STEP 2: PICK YOUR NICHE
Chances are, you decided to start a blog because you wanted to do two things: share a passion and make some money! This is where the passion part comes in. It's time to choose your niche or target audience. Who are the people you want to serve? To speak to?
When it comes to niche selection, your best options are always the most focused, specific ones. The more focused the better! If you want to write a niche about your love of crocheting golf club covers, chances are you'll be able to find a group of like-minded, equally passionate fans.
So what should guide you in your topic selection? There are three driving forces that should guide your choice of niche: what drives your soul (passion), the specific and special gifts you bring to the table (skillset) and your unique experiences and perspective, gathered over the years that you have been on the planet. These are the elements that make up your Personal Brand and this is your Secret Sauce! This is the hard-to-define quality that is responsible for establishing that K-L-T (Know, Like & Trust) Factor that makes for raving, passionate fans who see themselves in you.
With all that being said, there is a way to narrow down your focus to help with selecting a niche that will make you money. Carefully consider your answers to the following questions:
What are your life experiences?

What do you want to share?

What possible connections or leverage in your niche can you use?

Where can you put those three elements to work for you, earning money?
STEP3: CRAFT YOUR BRAND
Your brand is, most simply put, YOU! Ultimately, you are sharing your journey through this blog. If your brand is strong, people will be more inclined to follow any recommendations you make and it won't impact your business much, if at all, if you shift to a different product line.
Honest, authentic sharing about your passions will help you connect with your audience. This is essential because all your passions, experiences and skillsets will not help you to monetize your blog, unless you can create a strong connection with an audience.
You will draw people to you because something about you resonates with something in them. You essentially are talking to people who have shared interests, passions, and even the same pain-points as you do.
That is the magic connection. All the skill and expertise in the world will not create a connection with the audience. Potential readers can get that from an encyclopedia. What an audience is looking for is a reason to choose your particular blog over the blogs of others. Be yourself and you'll draw people to you!
Deeply connected to your brand is your blog name or identity. You'll need to come up with a name that tells readers who you are, what you do, and who you serve.
People ask me all the time how I came up with my online identity: Broad Minded Money Maker. The story is quite simple and linked to who I am. My maiden name is Broad.
When I was a child, my parents had a bumper sticker on our car that talked about being broad-minded. It has always stuck with me that I wanted to be a broad-minded person, open to all the opportunities that cross my path. And that is how Broad Minded Solutions and Broad Minded Moneymaker were born.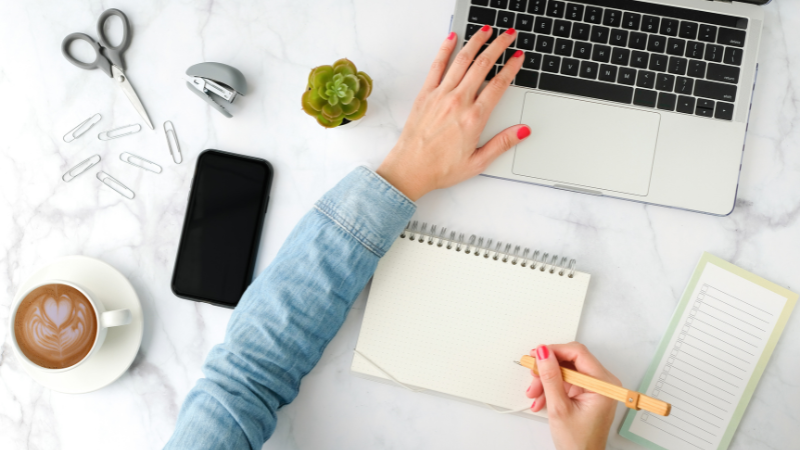 STEP 4: CLAIM YOUR CORNER OF CYBERSPACE
Now that you have come up with a name so you can start crafting your personal brand as you share your story with the world, it is time to claim your corner of cyber space. That means purchasing a domain and hosting services.
If you're really new to this, you might not know the difference between domain and web hosting. Don't worry – I had to learn this too!
Your domain is your specific address on the Internet where you can be found. For me, that would be www.broadmindedmoneymaker.com. If someone types www.broadmindedmoneymaker.com into the search bar of their web browser, they will be directed to the exact location in the World Wide Web where my blog & website are located.
Your host is the physical space you rent on a computer, or shared between a network of computers ("the cloud"). Hosting is the service that stores all the files you need to have a functioning website. You need both for your blog or website to run.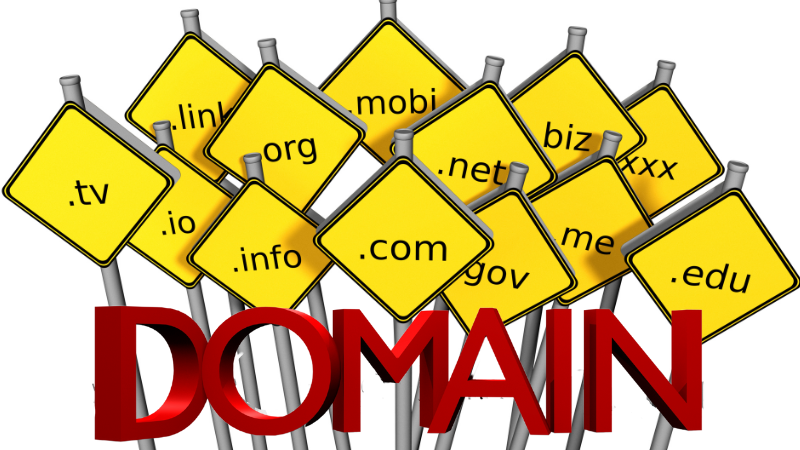 GRAB A DOMAIN TO REFLECT YOUR BRAND
Once you've selected your name, it's time to purchase a domain that will reflect your online identity. I can highly recommend NameCheap for domains as their customer service is excellent and their domains integrate easily with hosting platforms. Click HERE for a special discount to get a .COM domain starting at $5.95 for the year!
While you're at it, also sign up for a professional email. You'll want one when you start to monetize your blog so you can collect client emails to promote the products that you will promote. The service I use through NameCheap is connected to my domain. Don't worry, we'll talk more in-depth about that in another article.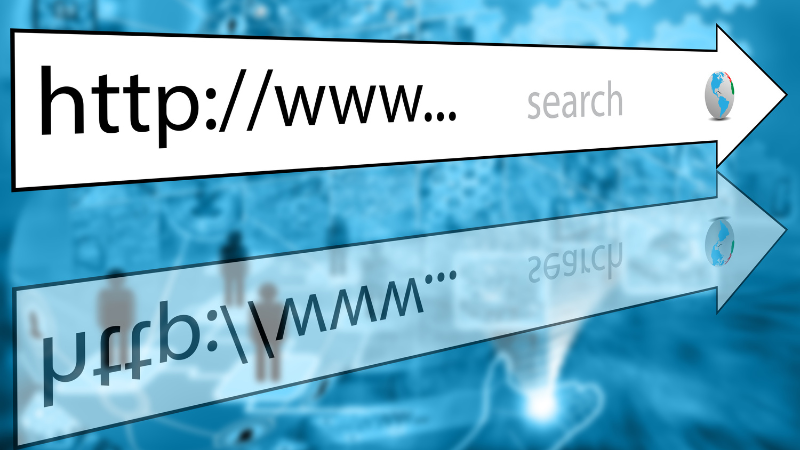 SIGN UP FOR WEB HOSTING
I am going to go outside of the usual path when it comes to who I suggest for Web Hosting. I have two options to recommend and I have used both of them. There are so many great choices, but I have used and highly recommend both Lead Vortex and JetPage by Wizrd. Let's dive into the pluses and minuses of each platform!
LEAD VORTEX
Lead Vortex is an all-in-one platform that goes far beyond just hosting and blogging capabilities. For less than the traditional costs of hosting and web design (usually Word Press), you get a powerful suite of tools that can REPLACE every single software service you'd pay for as an Affiliate Marketer, Online Entrepreneur, or Blogger.
Lead Vortex can build funnels, manage customer relations, automate your emails, run your Affiliate Program, host your courses and manage all product and service payments. And we haven't even begun to touch on what this software service can do for web design and hosting.
Lead Vortex hosts your blog for you. It also easily integrates your blog page with your website -- both you can build inside of Lead Vortex. There is an entire website template with every page you could possibly imagine prebuilt in a classic, easy-to-customize format with an intuitive layout.
A complete set of custom values built into the back office of your Lead Vortex account will allow you to enter all your key business information (your name, business email, affiliate offer links, logo, brand colors, and many more) once and it is easily incorporated across the entire platform.
This has become my all-in-one software as service top recommendation and is currently saving me over $150 USD monthly in costs. You can try it for 14 Days, completely free, before you have to commit to a payment. Hands-down, Lead Vortex is a winner!
JETPAGE
JetPage by Wizrd is a relatively new option in the online space but it is specifically built to serve people who want to start a blog, gain traffic fast and monetize immediately. What's the magic ingredient that makes JetPage an absolute top recommendation is this platform is built with the sole focus of outperforming all other platforms in Search Engine Optimization (SEO).
Basically, there are three main areas where JetPage steals the win: it focuses on simple functionality or style, the entire platform is optimized for SEO (the HTML, the automated dynamic Sitemap, load times, etc.), it is built specifically for Affiliate Marketers & Bloggers. If you need more in-depth than that, here's Why JetPage is the Best Website Builder for Blogging.
From a personal standpoint, I have zero regrets for going off the beaten path to use JetPage instead of one of the more traditional choices. Their customer service is second to none, responsive within minutes of a query, and willing to go the extra mile to support their customers.
I think that is one of the best reasons to choose JetPage by Wizrd: they are in the process of building an empire so they are absolutely responsive to meeting their customers' needs. Request what you are looking for if they don't have it, and they respond willingly with an answer to your request! Without question, you cannot go wrong with this hosting service.
TRADITIONAL ALTERNATIVES
Now, the hosting giant in this space is WordPress, and unquestionably you cannot really go wrong with a WordPress site. They do offer a free platform which might be a good choice if you are starting out on a budget, but there are lots of reasons to purchase a paid plan, with the primary reason being you'll be able to run ads and monetize with a domain and hosting space you own.
Bluehost is the other giant in this space and you can get started with a self-hosted website with them for as little as $5.95. There are lots of benefits to working with Bluehost, one of which is the easy one-step installation of WordPress using the hosting dashboard.
Ultimately the choice is up to you, but I will say with certainty I am 100% happy with making the switch to Lead Vortex. As it too has been specifically designed with top SEO & Google Search performance in mind, it's a winner in my books!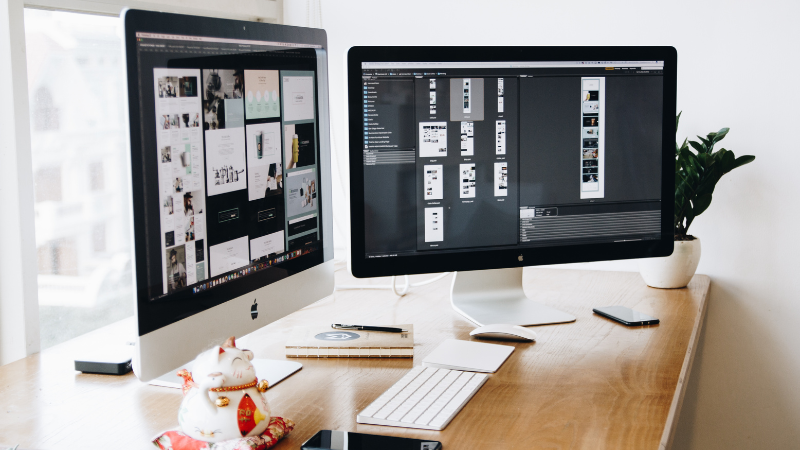 STEP 5: DESIGN YOUR WEBSITE
With JetPage, because it is specifically built for SEO Optimization, the choices for what it looks like are fairly limited, on purpose. The simple design allows your pages to load lightning-fast, another quality that makes your page index well in Google.
Ultimately that improves your overall metrics and makes you significantly more likely to rank organically on Google on the first page, hence gaining significant traffic.
Limited choice in design is a concession I am willing to make, however, because I want to build an audience and monetize my blog quickly. I can also assure you that you will have all the features that are essential in building a money-making blog, and none of the extras you don't really need.
The quick profit generated in the first week and a half of the Broad Minded Money Maker Blog's existence lines up well with that!
As well, don't forget that any good blog needs attention-grabbing photos, logos and infographics to capture your reader's attention. I rely heavily on Canva to design any graphic or pictorial content for my blog and all my other social media platforms.
While they have a free version that will definitely get you started, once you switch to Canva Pro (that's a link for a FREE 30 Day trial), I doubt you'll go back. They have so many different pre-made templates for just about every application imaginable, that you'd never need to outsource for logos and branding needs.
If WordPress is more your style, there are literally thousands of free and paid "Themes" within the platform that will give you style options to guide the look of your website. Your choices are endless so all you need to do is pick what feels right for you.
Unlike JetPage, which is built with bloggers and affiliate marketing top of mind, Elementor is a Wordpress website builder that offers a lot of options and serves a wide variety of audiences from eCommerce, business services, events & entertainment, and the list goes on. Elementor provides a lot of different applications that you can explore if your list of demands for your online space is more complex, along with both a free and paid platform.
Remember one thing here, though: what matters most about your website is the content and not how appealing it looks. Content is what will get you found in Google Search!
TRACKING PIXELS & WHY YOU WANT THEM
Especially when you are first getting started with a brand new blog, there are lots of terms you. might not know. For me, tracking pixel was one of those terms. These little bits of website code that you'll never actually see once you've installed them is a must for anyone planning to run paid advertising because it gathers information about the traffic that flows through your website, whether that be a Facebook post, a Pinterest Pin, or your blog.
Tracking pixels are embedded into the header or footer of certain pages of your website and they track the behaviour of your website's visitors.
The benefits for track data from your website include web analysis, online marketing, and email marketing. This collected data helps you to see where you are successfully connecting with potential customers, where you are not properly honed in on your ideal client, how to improve, and how to optimize your ad spending.
Tracking pixels help to gather information connected to email opens, digital ad impressions, sales conversions, website visits, and other types of web activity. Tracking pixels might also collect statistics like:
Add to Carts

Page Views

Purchases

Time on Page
Facebook and Pinterest tracking pixels are two of the most popular and common pixels that Bloggers and Affiliate Marketers use for creating successful ad campaigns. They can also be helpful with retargeting (being able to remarket to a specific group of customers who visited your page or performed a particular action). Here is a great guide from Meta that helps you to understand the different events that can be tracked with a Facebook tracking pixel: Facebook Pixel Events.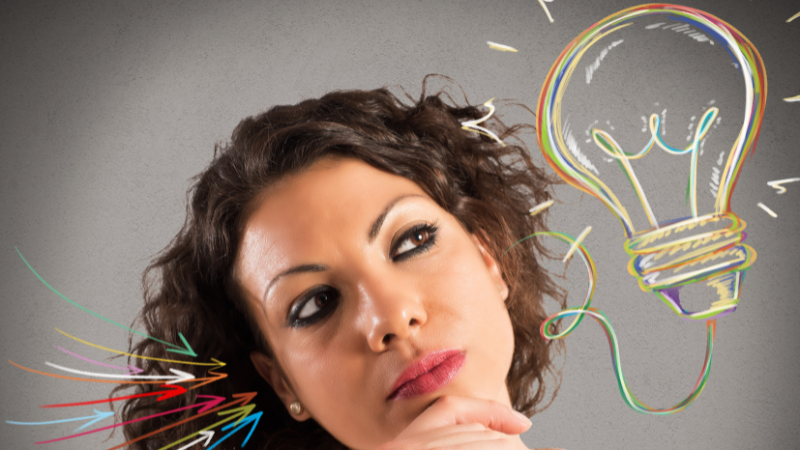 STEP 6: BRAINSTORM YOUR CONTENT
You already headed in the "write" direction to start a blog if you have a clear direction and sense of what your niche is. If you don't know what your niche will be yet, don't just start writing whatever comes to mind.
Let your passions drive your topic choices and write about what you love. This will make the writing natural and a bonus is you'll never run out of ideas! Besides, if you don't love what you're writing about, it will be ultra-obvious, affecting your overall results.
You'll also lean heavily on your personal experiences, your challenges and obstacles, your successes, and new things you've learned along the way.
As well, put yourself in your audience's shoes. What would your audience love to hear from you? If I could give you one piece of advice, I would say to get as focused and even unusual as you dare in your topic selection.
There are so many people out there in cyberspace, but your best audience will have very specific tastes for reading and potential purchases. The more specific you get, the more you can create passionate fans and the more easily you will monetize your blog.
If you're stuck for topics, there are lots of great free and paid services that you can use. Answer the Public is a great option where you can enter a few keywords and then see all the questions and queries people are putting into search engines.
You can use those questions to guide content creation. The bonus is you already know you are answering questions the public wants to be answered!
If you're interested in deeper reading on the topic, here's a helpful article by Neil Patel that helped me when I was considering what topics to use: Never Run Out of Blog Post Ideas With These Simple Steps.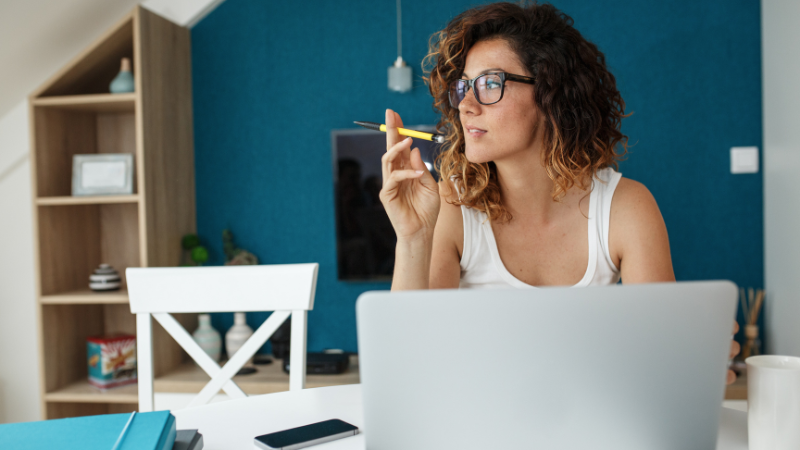 STEP 7: WRITE
Over time, blogs have changed from online journals, of sorts, to search-engine-driven websites that require being found in a search engine to survive. Obviously, the giant in this space that determines if a website is ultimately successful is Google.
STRUCTURE YOUR ARTICLES
Your main aim is to provide value to your readers. Be sure to plan your articles so that there is a clear beginning, middle and end. Attention-grabbing visuals that reinforce your message should always be a key part of your blog.
It's also a clever trick to keep paragraphs in the 3-4 sentence range to keep people skim-reading along! If it takes too much effort to read through long-winded paragraphs, readers will just click off your page and find something easier to consume.
USE GOOD WRITING STYLE
As well, anything you can do to improve the reader's experience through good writing style will only help your page get a lot of traffic and convert incidental readers into raving fans.
Put serious thought into showing your audience what your experiences are like. Recreate it for them! Give them a front-row seat! Who doesn't love a well-told story?
Good writing might not be something that makes people avid fans, but it will certainly allow you to get your message to your readers easily.
If you struggle with grammar, a subscription to Grammarly can be a real lifesaver. While they have a free service, you really get a tonne of value for your money with the paid service which can go a long way in improving your overall style.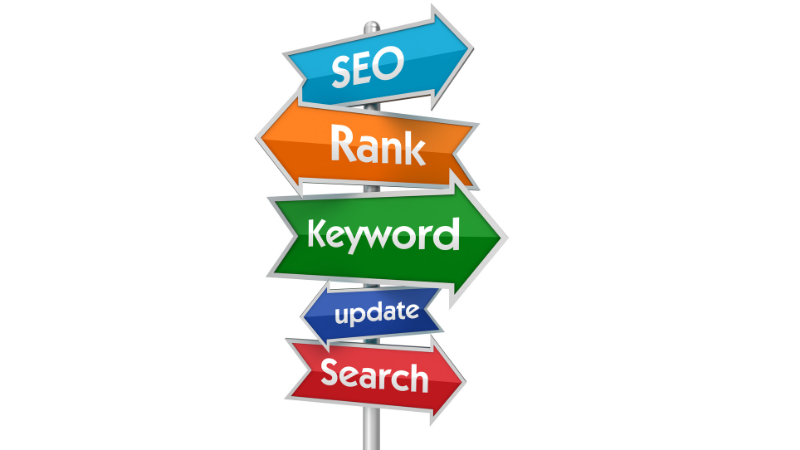 DON'T IGNORE SEO
As I've said earlier, my friends, a blog is not just a place where you put word to page and then it makes you money. If your words are not being found, you will struggle to build an audience and not be satisfied with the money your blog brings in.
SEO stands for Search Engine Optimization which basically means the set of guidelines designed to improve how well people discover and can easily find online content like your website and blog articles.
From the very beginning, focus on using a main keyword or two to guide your content creation for each post. Once you've narrowed down what keywords you want to be found for, there are some strategic places you need to place your words.
I can make a recommendation for an absolutely excellent SEO course that you can complete in 7 Days! It's called the SEO Sniper School and it will walk you through creating a blog, specifically focused on skyrocketing your SEO scores and getting that blog on the Google Search Map much sooner than conventional approaches!
From this course I have really come to understand that if you're thoughtful about keyword placement, this course can really, really improve your SEO performance! It is part of a suite of courses that you can subscribe to with unlimited access on a monthly basis for $97. If you are interested, check out SEO Sniper School and hit the mark with your blog!
USE HEADING TAG FORMATTING TO IMPROVE SEO
Headings on any page make it much easier to navigate throughout the reading experience. (H1, H2, H3,H4, H5, paragraph). They cue readers to the content coming our way in each section, but they serve a deeper purpose than that. They tell search engines like Google how to categorize the content information on your website and in your articles.
You might not now understand or appreciate the significance of using the H2 and H3 heading tags, or the importance of bullets or images to break up the text, but all of those things help your blog to rank higher on Google! Instead of just using bold to make a headline stand out, use the built-in formatting to improve your Google SEO metrics. That is a point that is really driven home in the SEO Sniper School course! As a blogger, you've just got to learn how to use the built-in formatting inside of your article to incorporate your keywords and improve SEO scores!
Heading tags are a crucial part of SEO and will significantly impact how your article ranks in Google. Be sure to use the built-in formatting that comes along with the hosting platform to improve your search metrics!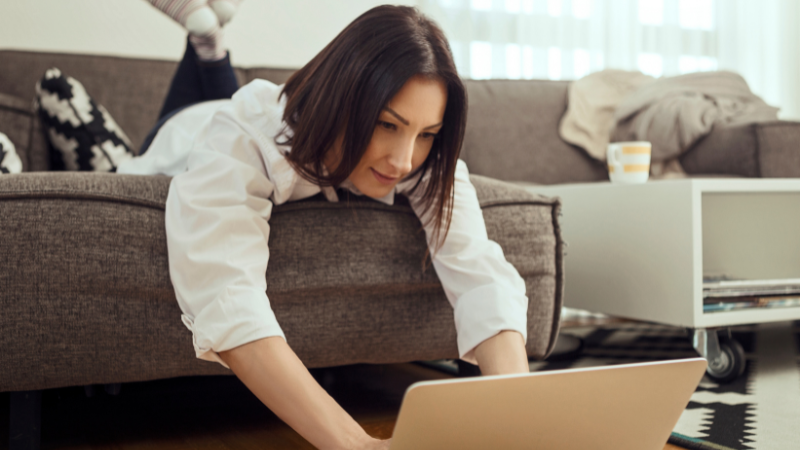 OTHER HELPFUL FEATURES TO INCLUDE IN EACH ARTICLE
Here's a list of all the features you should include in each article to hook your readers and keep them engaged with your article:
Attention-grabbing headings & subheadings

Attractive photos

Infographics – explanations of information using pictures

Video – like to video content you have

External Links – link to other helpful articles your readers might appreciate

Internal Links – link to your About Page, related articles within your own blog that readers would find interesting

An email opt-in on every page of your blog
Following that list should give you a wide variety of interest-grabbing elements, bound to keep your readers coming back for more, again and again!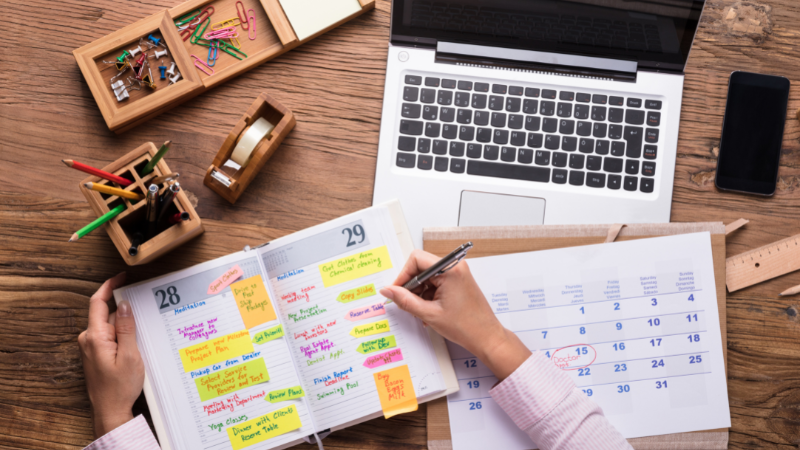 STEP 8: CREATE A CALENDAR
According to Google, your main focus in blogging should be on content, not all the frills and decoration! John Meuller, in charge of SEO for Google states, "it is hard to call a site authoritative after 30 articles."
What that translates into is a need for bloggers to PRODUCE!
The sooner you can generate a deep library of articles, the faster you can build your authority and therefore be better appreciated, and ranked by Google. That means one thing: your writing cannot be unplanned and spontaneous!
Create a schedule and stick to it, but make sure it is realistic. What is a content schedule that compliments without overwhelming your daily life and available time?
Once you have determined what is workable for your life, create a consistent schedule and follow it without letting yourself down. The only way to generate a large body of work is to make yourself a commitment and stick to it.
Schedule your life around your writing time to ensure you are always producing valuable content. It might be as simple as creating a document where you list the topic of you planned content, the keywords you want to incorporate, and the deadlines for when article need to be written.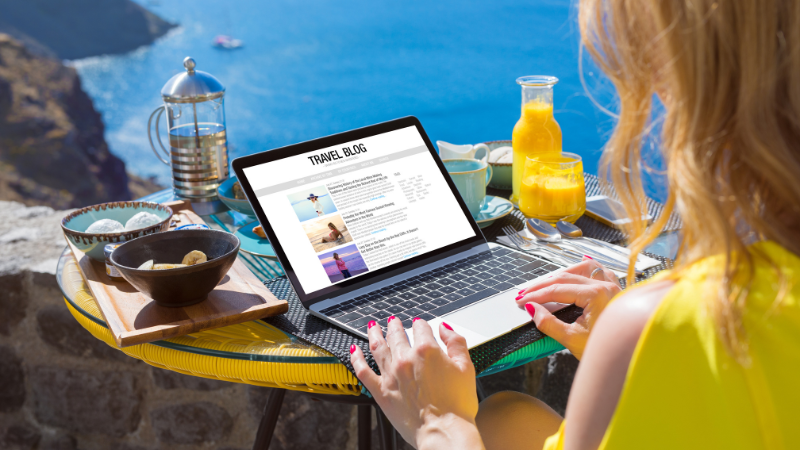 STEP 9: MONETIZE YOUR BLOG
The beautiful thing about blogging is there are endless affiliate partnerships you can establish with companies you already use. Share your favourite companies and products within the blogs you write and you open yourself up to monetization through affiliate marketing.
To learn the basics of Affiliate Marketing, I highly recommend The Affiliate Apprenticeship 2.0. It's designed to move you from inexperienced beginner to an entrepreneur competent and ready to set up your online business in two weeks. This process the one I followed to build an online business that is paying me EVERY single day!
Interesting fact: you only need to add $50 to your daily income to bring in an additional $20,000 yearly! Imagine the impact of that on your life!
You may still struggle a little when it comes to which products to pursue as affiliate offers, but I say turn to your audience and see what they want to know about! Asking your audience will give you buckets of feedback which you can use to direct your next articles and sources of affiliate income.
Be focused on building an email list with those readers! Never hesitate to offer a freebie, collect an email and then you can market any number of products, whether physical or digital, to your ever-growing list. Blog subscribers are GOLD! The money is in the list, my friends so be sure to build that list as a way to monetize your blog!
Consequently, you'll need a good Autoresponder to manage all those subscriber emails. I've already spoken about the value in Lead Vortex, a powerful all-in-one that I highly recommend with a ridiculously reasonable monthly subscription price. It actually feels almost illegal to use it because it does so much for $97 a month. Check it out for free with a 14 Day Free Trial. It's a steal of a deal in the online software as service online business tools.
AWeber. It's a solid choice for your pocketbook too as it's free with your first 500 email subscribers. They have an excellent offering of products, even with the free plan and it is super easy to use.
Another excellent option is Systeme.io as it offers a free-for-life pricing plan that incorporates an autoresponder and a sales funnel, and a whole other host of software services, all in the same platform.
Here's something worth knowing: 48% of all emails end up in your desired customer's Spam Folder! That means, no matter how value-filled, engaging and cleverly-written your emails might be, there's almost a 50% chance that your Perfect Person will not see it.
How do you take actions to prevent this? WARMBOX is a really neat tool that I use to improve my email deliverability and it was a key tool I used when I first started collecting emails. I discovered, after doing my research, that if you don't warm up your email, you risk affecting your deliverability rate and your sender reputation.
This cool service uses an A.I. process that is repeated again and again, acting like an actual human, interacting with her email inbox. Over time, this gradually improves your reputations so that your emails will be allowed access to people's inboxes, your sender reputation grows and your open and conversion rates grow! WARMBOX has done that for me and it can do that for you too!
There are also options to use Google Adsense where you agree to run ads on your blog space, but there is an even better option if you have a lot of blog traffic: selling private advertising space can create a full-time income for you in passive income right on your blog!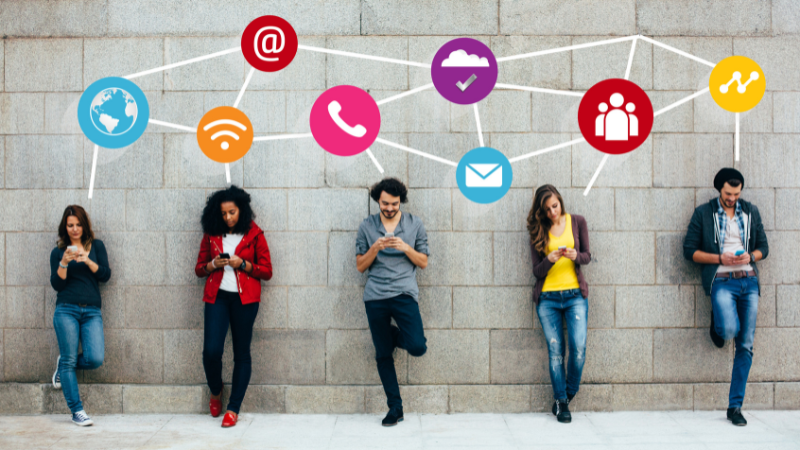 STEP 10: PROMOTE YOUR BLOG
The bottom line with a blog is the greater number of people who access your content, the greater amount of income it will generate. This is not something you just do once; promoting your blog is an ongoing process, just like writing your blog articles will be.
Be sure to leverage any social media platforms you have at your disposal. Share a post in your Facebook group, promoting your new article. Invite your group members or followers to head over to the blog and check it out.
Be sure not to make the mistake of thinking Pinterest is a social media platform like Instagram or TikTok. It is a Search Engine, a powerful visual search engine, and it should be a key component of your marketing strategy for your blog. Creating attention-grabbing pins announcing your newest blog post can drive thousands and thousands of new visitors to your blog. As well, including Pin-worthy graphics within your blog articles allow for easily pinned content when people fall in love with what they've read on your blog.
On top of that, there is a really handy scheduling tool called Tailwind.App that allows you to create content, schedule your content for up to one month in advance and integrate with Pinterest, Instagram and Facebook! The power of being able to schedule your content and free up your time makes so much sense.
Tailwind has a free scheduling platform and a variety of paid options. All options include access to a variety of Tailwind Communities which are powerful tools for learning and promoting your content! I use it myself and highly recommend it! Tailwind offers a variety of other amazing features including Pin design, Content suggestions and an AI Ghostwriter to help you with your content. Simply amazing!
Further to that, be sure to include Social Media Share buttons on all of your articles so that it is also easy for your readers to share your blog content to their favourite platforms, like Pinterest and Facebook.
Once you have gotten started, come back and read my blog post, Top 5 Power Tools Digital Affiliate Marketers Use to Profit Online to learn about the tools I have found to be invaluable to my financial success as an Affiliate Marketer. As well, if you haven't already joined, check out my Broad Minded Solutions Facebook Community! I teach basic side hustles and can help you along your journey in Affiliate Marketing, Blogging and so much more!
Maybe you want to know a little bit more about all of this? Be sure to check out this video: So You're Thinking About Getting Started in Affiliate Marketing?
So what are you waiting for?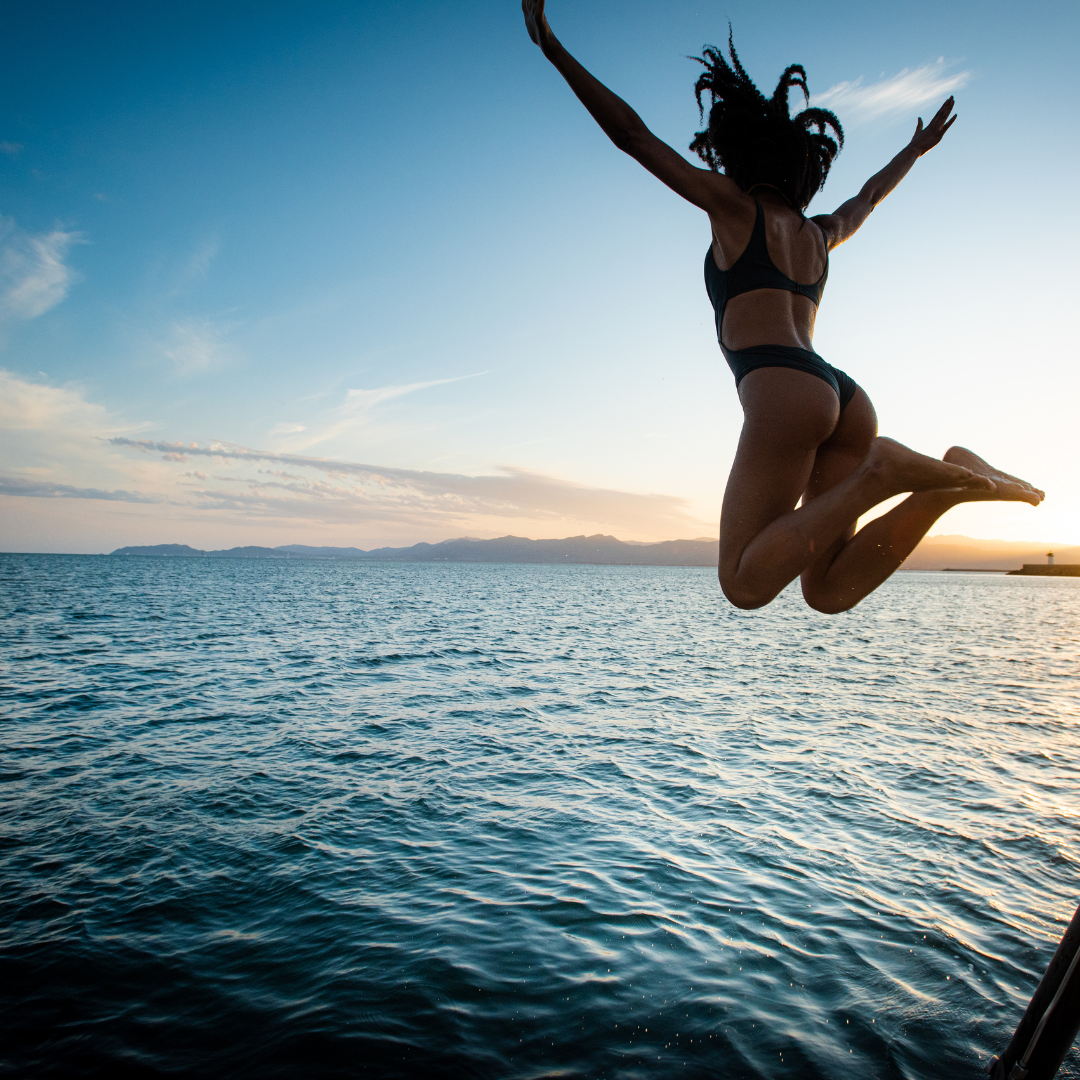 💦 CANNON-BALL!💦
And start your own Affiliate Marketing Business or Blog TODAY!
Did you enjoy this post? Please consider sharing with others on your favourite social media platform!
Here are your take-aways from reading to the end. You CAN own your own passive-income business; it just takes time! Most importantly, to become successful, you need to be authentically YOU!
The principles I have just revealed I personally used to jump-start my own successful Digital Affiliate Marketing business. Use them to scale your online business, work on your education, and put in the work! Take the next few weeks to really focus on yourself.
And finally ... what more do you want to know about starting a blog that can generate you $1300++ in a weekend?